The #1 most effective way to build your new home

Build a stunning, energy-efficient home on your lot almost anywhere in
Rhode Island and Connecticut. Also serving Fishers Island and Block Island
Contact Us Today

Come Home to Award-Winning Quality and
Style. See why 1,400 individuals and families
love their Connecticut Valley Home!
The Connecticut Valley Homes experience is unlike anything you might imagine. We make building a home on your lot easy. Our commitment to high construction standards and unmatched customer service provides an opportunity for people to build a truly custom home with ease, in less time, and of superior quality. The quality is in the home, in the building experience, and in the life you're about to enjoy!

The Advantages of Modular Construction
by Connecticut Valley Homes
• Cost Savings! Time Savings! Hassle Savings!
• Flexible Design Possibilities using your plans or
• ours = a home you will love
• Controlled Building Environment = highest quality,
• unquestionably superior construction!
• Energy Star program = on-going energy savings
• Pre-determined building costs and schedule
• Environmentally friendly for your good health!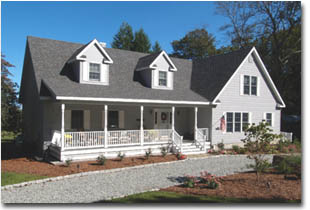 Building a new home is not for everyone. However, for others, it can be the only way to realize their dreams. Making the dream easy and pleasant from inception to creation is the responsibility of honest professionals.

We have taken great care at Connecticut Valley Homes to combine excellent communication with a controlled construction process. The result is informed customers building high quality homes with no unhappy surprises. For about 45 selected families each year, the reward is a home to love and an experience to remember fondly.
Connecticut Valley Homes is a reliable and experienced construction company and has built over 1400 homes. They are members of the Better Business Bureau, the National Home Builders Association and they continually support local charities and organizations.
Rhode Island Builder Listing | Home Building Resources