Since 1965
, Cogdill Builders, Inc. has been a Florida-based family-owned custom home building company, focusing on building custom designed homes, and developing small residential communities, covering all price ranges. With an emphasis on customer satisfaction and flexibility in design, a large portion of our business is a repeat customer. Cogdill Builders of Florida was launched to expand our homebuilding to other regions of Florida.
Service After The Sale - You will not be forgotten after the closing. We will be there to follow up and handle any items necessary after move-in, guaranteed! Just call the Northeast Florida Homebuilders Association (NEFBA) and ask about our status 904-725-4355.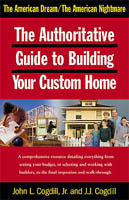 We wrote the book! - American Dream/American Nightmare is a book we wrote to take the mystery out of building a custom home. Reserve your copy online at retailers like Books-A-Million, Barnes & Noble or Amazon.com or join our custom home VIP program and receive a free copy!
Easy Access To The Builder - The key to your overall satisfaction. You, our client, have total unlimited access to our company owners (the builders) not only during design and construction, but also after the sale. Have a question or concern? Call us. We are here to make your experience fun and exciting. We provide the type of customer service only available from a family-owned and operated business.
Homebuilding should be fun, exciting, and stress-free! Our focus is on your needs and turning those needs into Your Dream Home, a home built to your specifications limited only by your imagination.


Click Here To Visit Our Corporate Website
3008 Samara Drive | Tampa, FL 33618
813-486-9099