Exclusive Upscale Estate Home Builders of Northern Virginia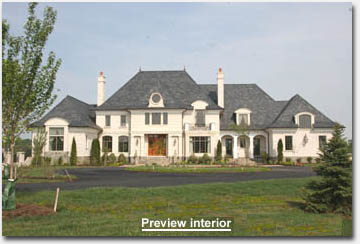 Creighton Enterprises, Inc., builds beautiful luxury homes in Loudoun, Prince William and Fauquier Counties of Northern Virginia. Our homes are built on 3 acre to 100 acre properties with incredible views and convenient to Washington DC.
Operating as a family-owned business for almost 20 years, the Brown family has found that a personal style of communication with their clients is best for all concerned. From selecting the community that best suits your desires and budget to designing and building your home, you'll find that you and your family are well taken care of by our family!

Every Creighton Enterprises home is truly a custom crafted, one-of-a-kind masterpiece. By working closely with you, we insure your home will meet your needs and your style.
Some of our clients start from one of our many floor plan layouts, while others already have a good idea of what their home design should be. Either way, when your home is finished, it will be a unique blend of function and beauty.

Our carpenters are highly-skilled, master craftsmen who have been with us since the company was founded. There is virtually nothing our carpenters and brick/stone masons can't do! We are among the few builders in the state who offer them a challenge and they're glad to be able to work with the best quality materials available. We all find building homes of this caliber a joy and know you will feel likewise about living in a Creighton-built home.
We believe viewing a home under construction is the only way to see first-hand the workmanship and quality of materials used on our homes. Take the time to compare our homes to the homes of other builders. We encourage you to visit some of our job sites and observe the integrity of the construction standards you'll find there. This is the best way to know that the home you build will provide many years of enjoyment to you and those you love.
Creighton Enterprises, Inc.
41194 Grenata Preserve Place | Leesburg, VA 20175
Phone: 703-443-9305 or 703-675-0881

Loudoun County, VA Builder List | Home Building Links