Custom Builders & Remodelers of Southeast Massachusetts
including CAPE COD and the Islands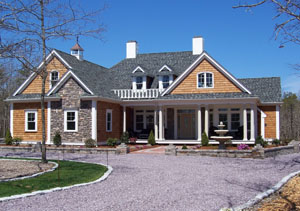 Beautiful new homes begin and end in the details. Michael Lallier has spent 30 years honing the crafts that will make your new home a showcase you'll be forever proud of!
Designer Built Homes offers:
CAD Design and Drafting Services
On-site Construction Management
Custom Finishing and Woodworking
"Quality over Quantity"
Due to the intense level of service provided by Designer Built Homes, the company contracts to build just a few projects each year throughout S. E. Massachusetts, Cape Cod & the Islands. If a custom designed home with distinctive interior craftsmanship is what your heart desires, it's time you got to know Michael Lallier!
Whether you have an idea & are looking for plans or you have plans & are looking for a Custom Builder or a Finish Craftsman, I'm confident we can help. I hope you'll look over our Photo Sampler page, recognize the priority I place on quality workmanship and decide to let us help make your home dreams your Dream Home!
~ Michael Lallier
DESIGNER BUILT HOMES
P.O. Box 751 | Forestdale, MA 02644
Phone: 1-508-922-4095 | Fax: 508-420-7386
Contact By Email

MEMBER

Massachusetts Builder Listing | Home Building Resources