Lindal's engineered building system is inspired by the post and beam architecture of North American masterbuilders. Rather than using conventional "stick" construction, in which the walls support the roof's weight, we use a strong framework of posts and beams, placed 5'4" on center, to carry the load.
Because Lindal's interior walls are freed from serving as structural supports, the result is an open, airy interior that allows long spans, large expanses of glass--and the design flexibility to customize any floorplan to suit your functional and aesthetic tastes. The beauty and integrity of Lindal's engineered system includes dozens of top-of-the-line construction details. What's more, we can customize your home's design to stand up to the snow, wind, and seismic conditions of your locality.
Our building materials are of fine grained Western red cedar from the Pacific Northwest. Kiln-dried, cut and planed to a radiant finish at our own sawmill, Lindal cedar is one of nature's most perfect building materials--and a daily luxury to live within.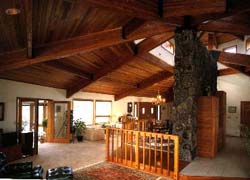 "The cedar woodwork lends warmth and a general spirit of welcome to our home." --Gene DiGiovanni