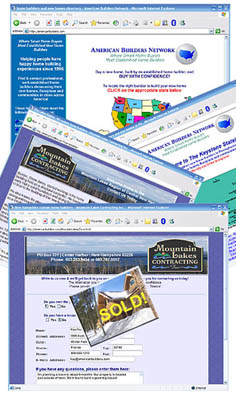 A Message to Realtors
With the challenges facing Realtors and builders, now is a good time to work with your local home builders - American Builders Network can help.
Although most of our clients are builders, in several cases our clients are Realtors representing builders. These relationships work well for the Realtors, their clients and the builders.
Created in 1996 to showcase established builders online, American Builders Network has become a trusted and valuable resource for home buyers, builders and Realtors in over 800 (and growing) cities across America. We welcome the opportunity to become a valuable resource for you, too.
Increase your business for just $50 a month. Call Kay or Ralph Hudson toll-free at 1-877-539-8588, or visit our Introduction page for more details.

Introduction to American Builders Network | Home


1831 Azalea Avenue Winter Park, Florida 32789
toll-free 1-877-539-8588| Fax: 407-628-8207