Looking for a new home builder in Manatee County?
Contact the builder who really measures up!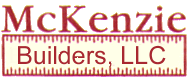 McKenzie Builders, LLC builds affordable homes that
you'll love to call home in Bradenton and So. Hillsborough
on Florida's Southwest Coast.

Welcome to McKenzie Builders LLC. We are a full service residential construction company building affordable homes in Manatee and South Hillsborough counties on Florida's beautiful Gulf Coast.
Roy McKenzie of McKenzie Builders LLC and George Dudas co-owners of McDudas Realty can help you on the purchase of new homes, existing homes or vacant land for off site building.

As your New Home Builder, McKenzie Builders will provide you with the following:
Stability and a Good Reputation - Over 20 years building experience in Manatee County and So. Hillsborough County with references available.
Quality and Service - Adhering strictly to the Better Business Bureau's "Code of Ethics," which helps insure customer satisfaction.
Financing - Conventional financing tailored to suit your personal needs.
Fair Pricing - Very competitive, using only the finest materials and quality craftsmenship.
Insured - Covered extensively for your protection and ours.


Special skills are required to build quality affordable homes. The ability to bring out the best in our people - from our carpenters to your financing partners - is imperative. As a 3rd generation home builder, Roy McKenzie grew up learning these skills. Roy has been licensed in the State of Florida since 1986.
At McKenzie Builders,
customer satisfaction is our TOP priority!

We look forward to working for you!

McKenzie Builders
15415 Mulholland Road
Parrish, FL 34219
Tel: 941-776-0005
Fax: 941-776-0085
CRC039381

Southwest Florida Builder List | Home Building Links