HISTORY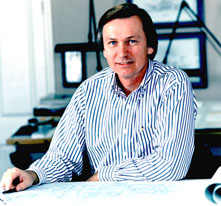 Upon graduating from the Kansas University School of Architecture in 1974 with a Bachelor of Environmental Design, Robert Montgomery, founder of Robert Montgomery Homes, Inc., spent the following year with an architectural firm in North Kansas City, Missouri. Being one to prefer a more hands-on approach to architecture, he was very enthusiastic when he received a proposal from a fellow Kansas University graduate in Boulder, Colorado to form a partnership specializing in residential construction. It was in Boulder where he developed his true passion for building custom homes.
Montgomery returned to his native Kansas City in 1977 and began designing and building homes on speculation. He became well respected in the building community and was referred to as "a triple threat in home building" in the November 23, 1980 issue of The Kansas City Star. As the article explained, "Montgomery shifts easily from the architect's drawing board to the general contractor's scheduling sheet to the carpenter's nail belt . . . Total involvement is the only way Montgomery wants to build homes - partly because of the kind of homes he builds. Traditional in design, they're replete with authentic detail work aimed at providing charm and character."
Montgomery's homes have been featured in several issues of Kansas City Homes & Gardens Magazine, including July/August 1989, November/December 1994, March/April 1995, March/April 1996, March/April 1998, November/December 1999, and May/June 2000. His own custom designed and built home was featured in the August 1995 issue of Kansas City Magazine. In addition, the first annual edition of Kansas City Home Design (1996 Home Resource Guide) featured a Robert Montgomery Home on the front cover.
During the past twenty years, Montgomery has built homes in the finest subdivisions located in the greater Kansas City area, including Mission Hills, Hallbrook Farms, Briarcliff West, Loch Lloyd, Royce, Chartwell, Corinth Hills, Corinth Downs, Oxford Pointe, King's Forest, Mission Forest, and Foxcroft. In addition, he has built homes on various country estates throughout Johnson County, Kansas.
Montgomery is a member of the Home Builders Association of Greater Kansas City and has been certified as a "Graduate Master Builder" by The Home Builders Institute, a division of The National Association of Home Builders.